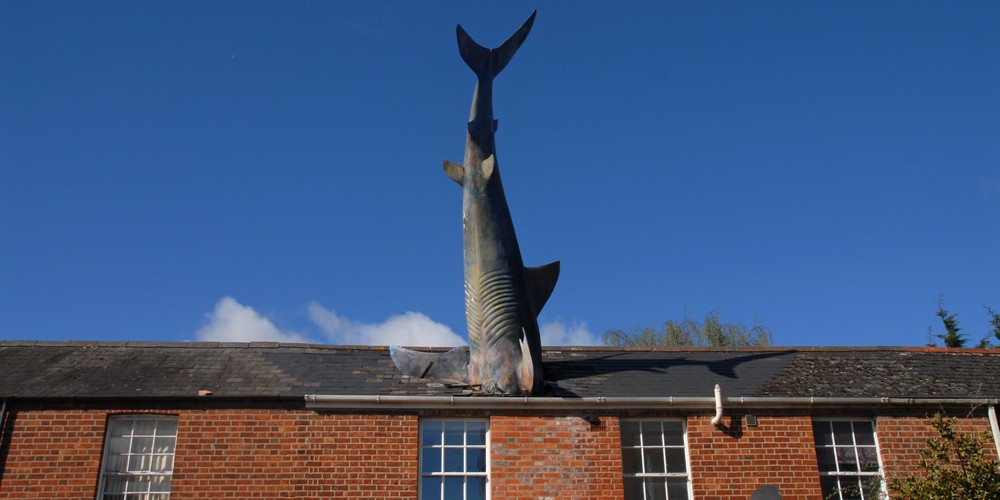 Since the "Shark" appeared on the roof of New High Street, Oxford on 9 August 1986, the house became the most mysterious place not only in Headington but also in the whole world.
This extraordinary house with a headless shark became the center of world attention. Thus, the headless sculpture was erected on the 41st anniversary of the dropping of the atomic bomb on Nagasaki in 1945 and was designed by John Buckley several weeks after the dropping of the atomic bomb on Chernobyl. The headless sculpture is made of fiberglass, weighs 200 kg, and is 7.5 m long.
 While preparing an article about this house and shark by journalists, the owner of the house Bill Heine said:
"The hole created by the shark expresses the feeling of desperation and impatience of people witnessing the atomic bombing of Nagasaki and Chernobyl accident".
Despite the fact that Municipal tried several times to get rid of the shark on the grounds that it was dangerous to the public, engineers renovated it again and pronounced the erection safe. However, Oxford City Council decided to send inspectors to deep into the matter and after the inspection, the sculpture was announced to be dangerous. Although the case was left unresolved, local people were relocated to other places and as a result, the shark had won.
 In 1992 Bernard Levin wrote an article in The Times about the "Headington Shark", entitled "XXX. In 2014 the "Headington Shark" took 24th place in the list of most extraordinary sculptures.
If you want to see the Shark you should obtain a Great Britain visa. Pickvisa.com team may assist you in that.
Author: Alekber Kerbalayev