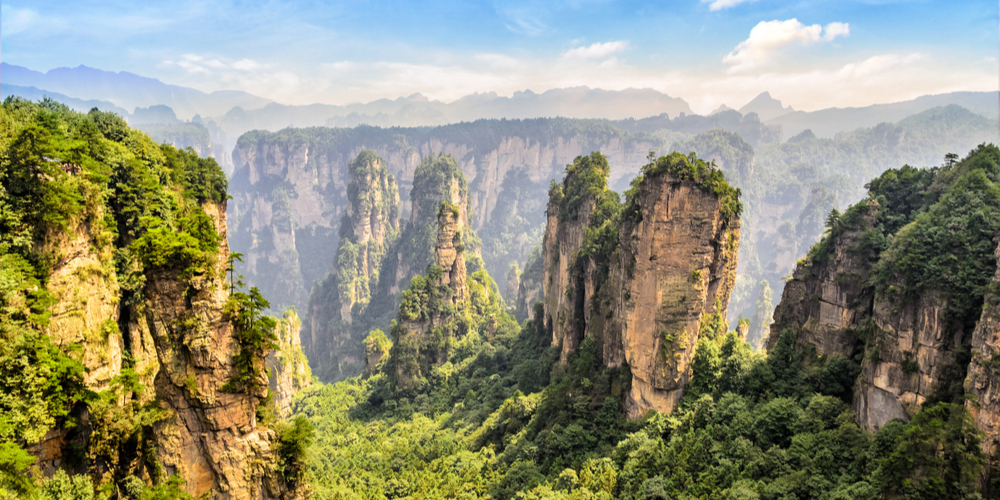 Everyone can be affected by any of the movies they watch. Some of us even include the places watched in movies on our "must-see" list.  Like everyone else, after watching the Avatar movie, I also wish to see Pandora.
Many of us are likely to be unaware of the existence of such a place. Surrounded by unusual mountains, this place is located in the Zhangjiajie National Park in the province of Hunan, China. The fact that the mountains previously named the "Southern Sky Column" is now called "Hallelujah" is related to the "Avatar" movie. Although there are no legendary birds, that will take you to the sky as you would see in the movie, hanging glass bridges will get you into a true adventure.
Travel is not limited only to that.  After enjoying the view of the "Hallelujah" mountains, by paying 90-120 yuan (about 14-18 USD) you can join the tour of Yellow Dragon cave which is 15 km long and 150 m high and is located around the National Park. In addition, you can join the tours to Baofeng Lake and the Tiananmen Mountains. September and October are best suited months for travel. Zhangjiajie National Park, located about 40 minutes away from Zhangjiajie city, operates from 07:00 to 18:00 every day. To enter the park, you must get a ticket for 248 yuan (37 USD) and you will be able to walk in the park for 3 days with this ticket. Such attractions in the park-like 3 ropes, Bailong Elevator, and the "Ten-Li Gallery" mini-train are not included in the ticket price. So, you must pay 65-118 yuan (10-18 USD) for the rope, 72-112 yuan (11-17 USD) for climbing mountains on Bailong Elevator, and 38-52 yuan (6-8 USD) for "Ten-Li Gallery" mini train. During this journey, you can eat in small restaurants at the foot of the mountain, or you can take your meals for a picnic in the woods.
If you want to see the places where the movie was made with your own eyes, this journey is exactly for you. For help with the Chinese visa, please contact Pickvisa.com.